admin
Currently Baralla Pipeline Ltd, is working in an aqueduct  pipeline in Cerro Negro Norte in Chile.
This work has a length of about 82km working with diameters of 10 "and 18″.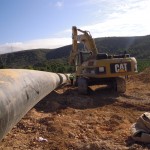 Baralla is carrying out the work of the pipeline Musel-Llanera Otero in Gijon Province, which has a length of 937km,distributed in 17km with diameter of 30 "and the remaining 920km to 26″.